During the months of March - May 2023, there will be a collection box in the lobby of the Lyndhurst Municipal Building for non-perishable food items benefitting the Greater Cleveland Food Bank. Please consider donating if you can!

Weekend Rubbish Drop Off begins this Saturday, April 1st from 11:30am - 3:30pm at the Lyndhurst Service Garage. Just a reminder, there will be no service on Easter Sunday, April 9th.

FirstEnergy crews are prepared to respond to service interruptions caused by a storm system that is expected to bring high winds and heavy rain this weekend. For more information visit:
https://bit.ly/3z34bC3

There's still time to get tickets for the Bunny Breakfast this Sunday at the Community Center. To purchase tickets online, go to:
https://lyndhurstoh.activityreg.com/selectactivity_t2.wcs?leaguesid=17
or visit us in person between 8am - 12pm. Tickets are $6.00 for Adults, $4.00 for Children and Seniors, or $25.00 for a table of 6. Proceeds to benefit Corpus Christi Academy 8th Grade Students' Trip to Washing D.C.

Dear Lyndhurst Neighbors and Friends, We are excited to announce that our NEW WEBSITE and our great NEW APP are now live! We know you have missed our weekly ENews and other timely updates but we are back and fresh and hope that you love it! Download for Android:
https://bit.ly/3Zp69YH
Download for iPhone:
https://apple.co/3IG5Pho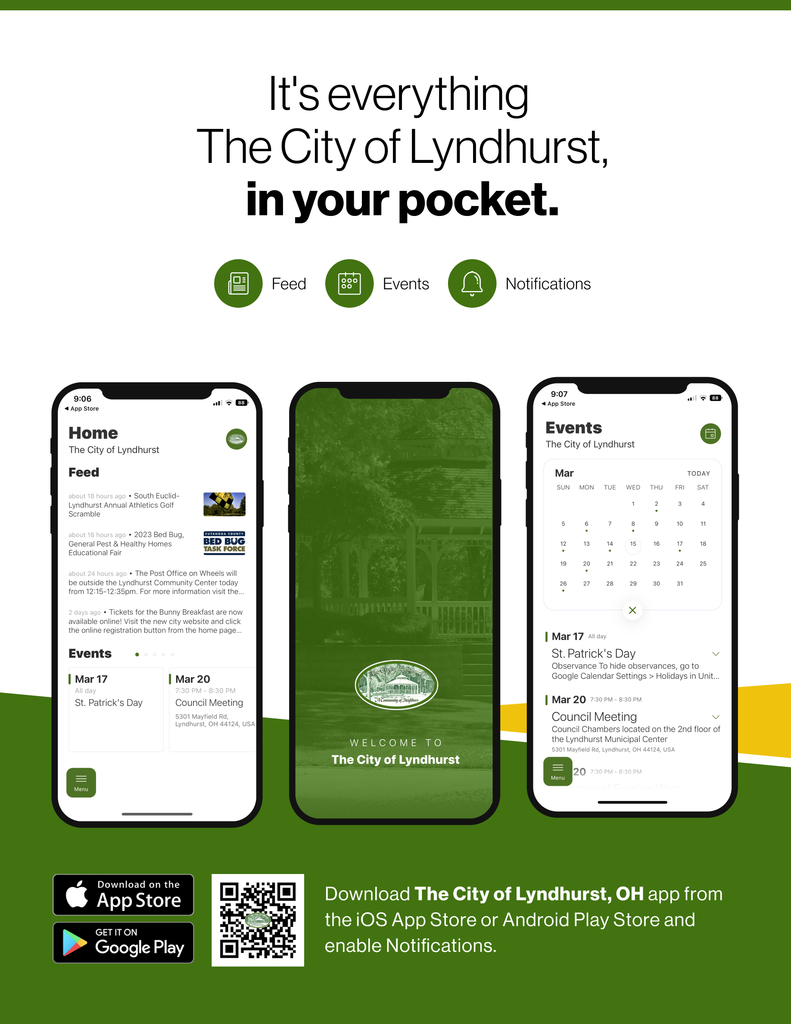 NOW HIRING POOL STAFF for the 2023 season!!! Visit the Employment Opportunities section of the website for more information.


Tickets for the Bunny Breakfast are now available online! Visit the new city website and click the online registration button from the home page to purchase tickets. Visit the city calendar & events for more information.
Merry Christmas!
The Weekend Rubbish Program will resume on Saturday, April 1, 2023. If you have Household Hazardous Waste (HHW) items to dispose of before next spring, please contact the Service Department between 7am and 3pm for assistance.
In observance of the Christmas and New Year holidays, The City of Lyndhurst offices will be closed on Monday December 26, 2022 and Monday, January 2, 2023.
Remember to download the Just Be Kind app and report acts of kindness in our Community!
Are you looking to get involved in our community? You can start by attending a City Council meeting on the first or third Monday of the month. Check the city calendar for a schedule of meeting dates.
Congratulations to Ward 4 Council Member Steve Grushetsky on being elected to serve as the Vice Mayor for 2023. The first City Council meeting of the year will be on Tuesday, January 3, 2023 beginning at 7:30pm.